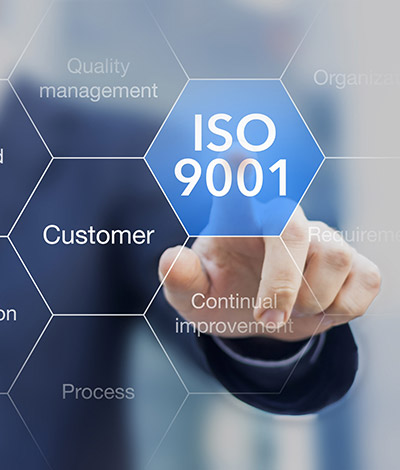 ISO 9001:2015 specifies requirements for a quality management system when an organization:
a) needs to demonstrate its ability to consistently provide products and services that meet customer and applicable statutory and regulatory requirements, and
b) aims to enhance customer satisfaction through the effective application of the system, including processes for improvement of the system and the assurance of conformity to customer and applicable statutory and regulatory requirements.
All the requirements of ISO 9001:2015 are generic and are intended to be applicable to any organization, regardless of its type or size, or the products and services it provides.
ISO 9001 is an international standard related to quality management, applicable to any organization from all types of business sectors and activities. It is based on eight quality management principles (all fundamental to good business practices):
Customer focus
Leadership
Involvement of people
Process approach
System approach to management
Continual improvement
Fact based decision-making
Mutually beneficial supplier relationships
What are the key benefits?
Improved quality of service – this also comes with the benefit of increased on time delivery
Reduced need for returns – because issues are identified and resolved quicker, often without the customer knowing
Assurance of service – certification acts as proof that the organization provide consistent, reliable and fit for purpose solutions
Improved experience – improving the relationship between customers/stakeholders and the organization will create a better customer experience and increase the chances of the customer returning again in future.